We offer the latest State-Of-The-Art Technology in Cosmetic Dentistry
At Bull City Smiles, we use the latest in dental technology to ensure that our patients receive the most advanced care available. We are pleased to feature the technologies below! Please feel free to explore our dental technology in greater detail. We are prepared to answer your questions. Call our team today to learn more and to schedule your next appointment!
Digital X-Rays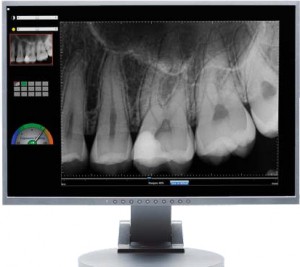 Taking x-rays is much more comfortable and faster than it used to be thanks to digital x-ray technology. At Bull City Smiles, we use the Sirona digital x-ray system which provides an 80% reduction in radiation. There is no need for film and chemical processing, which is better on the environment. Best of all, the image is produced in seconds with adjustable color contrast and is available to be viewed by YOU on our TV. You can see what we see! Further, they can be easily e-mailed to a referring doctor or to another dental office if you relocate.
Digital X-rays are one of the advanced diagnostic tools we use to provide you with the best possible care. Digital radiography has changed the way we take dental X-rays by making the process faster, more comfortable, and more convenient than ever before. Digital X-rays use a digital sensor to take images of your teeth, unlike traditional X-rays that use film. Digital X-rays use significantly less radiation than conventional film X-rays, and they require the use of no chemicals for developing the images. Our dentist can then instantly view the high-quality images on monitors right in the treatment room to provide you with efficient, accurate diagnoses and care. Our team is able to use digital radiography to identify and diagnose several types of dental problems, such as:
Decay in between teeth
Developmental abnormalities
Improper tooth root positioning
Cysts and abscesses
Fractures in existing fillings
Tumors
Infection in the tooth nerves
Bone loss
We may also use digital dental X-rays to plan certain kinds of dental treatment such as oral surgery procedures, root canal treatment, dental implants, and more.
NOMAD Pro™ – Handheld X-ray System for Dental Applications
To eliminate the fear associated with taking x-rays behind a wall, we are pleased to offer a new way! The Nomad Pro handheld X-ray system allows us to take precise x-rays right next to you! The low dose, "quick" fall beam produces accurate images quickly and with less error. It is excellent for children and patients with a bad gag reflex. Ask about our Nomad for your next set of X-rays!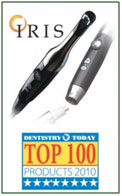 Intraoral Cameras
As part of our commitment to dental technology and patient care, we are pleased to offer intraoral cameras. An intraoral camera is a small video camera about the size of a dental mirror. It allows us to zoom in with 25 times magnification and see details on your teeth that are invisible to the naked eye and undetectable on an x-ray. The images are displayed on a computer screen at the end of your dental chair, allowing you to see what we see. You'll be able to see problems such as worn or broken fillings, cracked teeth, plaque deposits, and cavities next to fillings. By getting a clear picture of what's going on inside your mouth, you can make treatment decisions with confidence.
Sirona 2D and 3D Imaging
We are pleased to offer a top of the line model in the Sirona Extraoral imaging product portfolio, the Sirona XG 3D. Physicians have relied on computerized axial tomography scans (CAT), for many years. CAT scans are an X-ray procedure that uses many different X-ray images with the help of computers to generate cross-sectional or even 3D views of internal organs and structures within the body.
More recently however, dentists have begun to rely on 3D imaging techniques and Sirona scans to provide them with a detailed view of the mouth and skull. The advantage that 3D imaging holds over regular dental x-rays is that the bone structure, bone density, tissues and nerves can be viewed clearly.
Sirona scans can be completed in less than half a minute. This means that far less radiation enters the body than if a regular set of bitewing x-rays were taken. The main use for Sirona scans is to plan dental implant treatment and other oral surgery.
Dental implants are the most sophisticated replacement for missing teeth, but have historically proven to be time-consuming. Sirona scans vastly reduce the time it takes to implant teeth. It is thought that in the near future, implants will be placed in a single visit because of this unique type of imaging.
How are Sirona scans used?
Sirona scans are advantageous, because they allow the dentist to magnify specific areas of the face. In addition, the dentist can easily view cross-sectional "slices" of the jaw, which makes planning treatment easier and faster.
Here are some of the main ways in which Sirona scans are used in dentistry:
Assess the quality of the jawbone where the implant will be placed

Determine where nerves are located

Diagnose tumors and disease in the early stages

Measure the density of the jawbone where the implant will be placed

Pinpoint the most effective placement for implants, including the angle of best fit

Plan the complete surgical procedure in advance, from start to finish

Precisely decide on the appropriate size and type of implants

View exact orientation and position of each tooth

View impacted teeth
How are Sirona scans performed?
Sirona scans are quick and simple to perform. A Cone Beam Imaging System is at the heart of the Sirona scanner. During the scan, the patient sits stationary on a designated seat. The cone beams are used to take literally hundreds of pictures of the face. These pictures are used to compile an exact 3D image of the inner mechanisms of the face and jaw. The dentist is able to zoom in on specific areas and view them from alternate angles.
Previous patients report the Sirona scanner is comfortable, because they remain in a sitting position at all times. Additionally, the scanner provides an open environment, meaning that claustrophobic feelings are eliminated. The Sirona scan is an incredible tool that is minimizing the cost of dental treatment, reducing treatment time and enhancing the end results of dental surgery.
Ready Cone Beam System delivers superior image quality, reliability and ease of use. The Sirona Orthophos XG 3D Ready Cone Beam System delivers dedicated panoramic images, minimizing radiation dose and streamlining patient care. It also features the widest range of panoramic programs, including standard, pediatric, sinus, TMJ, thick layer anterior, multi-slice posterior and bitewing views.
Cavitron Touch™
Cavitron Touch™ is a dental tool that uses high-frequency sound waves to clean teeth. The sound waves vibrate tartar off your teeth (both above and below the gum line). It kills the harmful bacteria that cause bone loss. Water then flushes away the bacteria and plaque that build up on your teeth. This allows our hygienists to deliver a much more comfortable and thorough cleaning, than older techniques.
Hu-Friedy – EMS Air Polisher
Air polishing is a technique hygienist's use, where a water soluble sodium bicarbonate mixture is used, to help in the removal of stain and plaque during a routine hygiene appointment. Air polishing is great and comfortable to help in the removal of stain due to smoking, red wine, coffee, tea, peridex and other extrinsic factors. We are proud to offer air polishing at our office to bring back your beautiful smile!
Rotary Endodontics
Endodontics, more commonly known as root canal, is a procedure where the roots or nerves of the tooth are removed. This is often due to the fact that they are infected and the tooth is causing pain.
Rotary Endodontics is a way of performing the root canal utilizing a specific electrical hand piece. This tool often makes the process faster, more controlled, and allows the dentist to perform the process with greater ease which means a shorter appointment for you.
HDTV in Treatment Rooms

Our clinical staff can use the television to educate you on dental procedures and help you understand your specific dental conditions. Viewing digital radiographs (x-rays), and viewing intra-oral photography is extremely effective on a 32-inch LCD screen as well, which enhances the diagnostic capability of our doctor. It is also handy to allow you to watch a movie of choice during treatment!
Intraoral Magnification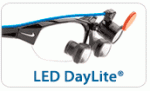 High-magnification "loupes" are glasses worn by the doctors in our practice. Magnification, in combination with high-intensity illumination, enables us to see in fine detail and assists in catching
things that others will miss using the naked eye. Loupes are also very effective for seeing cracked teeth, and orifices of canals, which allows us to be more precise, accurate, careful, and thorough while using the most delicate touch. Working with this advanced technology, we are able to provide precise treatment, which translates to longer lasting dental restorations and possibly less dental treatment in the future. Our patients appreciate that!
Top of the Line Adec Stericenter 

We are proud to be one of few dental offices in the area to have offer you the most state-of-the-art Adec Stericenter, a beautiful sterilization system visible to all of our patients, allowing you to see the extra care we take in ensuring your safety. When you come to our office you will see the red light in the dirty area and the blue light in the clean and sterile area. In this unit we have:
A Hydrum Instrument washer: It has powerful circulating pumps and wash-arms, and cleans instruments spotlessly. An independent study showed it removes 99.9% of all proteins. It uses fresh chemicals and water for each load, so it is consistently superior to older methods.
An Ultrasonic Washer: This is a high frequency instrument washer that utilizes a 400 HZ industrial transducer to achieve a powerful aqua static pressure to clean instruments efficiently and quietly.
Steam autoclaves sterilizers called M11 and Statim 5000 for our hand instruments and for sterilization of the dental hand pieces.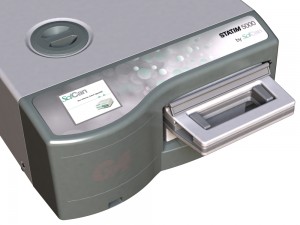 All our sterilizer machines are monitored for effectiveness with weekly tests. As a second check of sterilization effectiveness, all instruments are wrapped with an indicator strip inside which tests for effective sterilization of each bag or cassette. Ask us to show it to you at your next appointment! Cleaned instruments are kept in closed cabinets after sterilization. We make extensive use of plastic barriers at the dental chairs to aid in effective cleaning of the chairs. Our staff is immediately trained and biannually retrained in infection control as per the regulations of the State of North Carolina.
CEREC
CEREC stands for Chairside Economic Reconstruction of Esthetic Ceramics. CEREC is developed by Sirona® Dental Systems, and is an instrument for the fabrication of all ceramic dental restorations in one office visit. With CEREC at your dentist's side, you can be in and out in a single visit with a permanent, all-ceramic crown or on lay! For you, the patient, this means fewer injections, less drilling, and less time out of your busy schedule for dental care.

A CEREC tooth restoration is convenient, healthy and natural looking. Many years ago, dentists had few options to repair decayed and damaged teeth other than amalgam or gold. With CEREC, we can use strong, tooth colored ceramic materials to restore your teeth to their natural strength, beauty, and function. These materials closely match the composition of natural tooth structure so they expand and contract at almost equal rates to normal tooth structure. So, your tooth does not crack, and functions properly for many years. Also, the materials are chemically bonded to your tooth, so we can save as much healthy tooth tissue as possible while providing you with a dental restoration that strengthens a damaged tooth.
Worldwide, a CEREC restoration is placed every 20 seconds. With a history of 25 years, this instrument has helped dentists place over 6 million restorations. Using metal free materials that are the closest to your natural enamel, CEREC gives you the highest quality restorative care.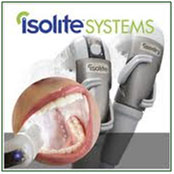 Isolite® Technology
A revolutionary device called, the Isolite® System offers retraction, moisture control, and patient comfort with one instrument. Isolite's soft, flexible mouthpiece that gently retracts and supports your jaw, provides protection for your cheeks and tongue during procedures, and acts as a barrier to prevent swallowing of dental materials. The aspirator keeps your mouth dry, eliminating the need for cotton rolls packed all around your mouth and the discomfort of saliva trickling down the throat. The Isolite System gives our patients a more relaxing dental experience, and that's important to us.
Chairside Computers
Our patients have realized many benefits since we computerized and networked our treatment rooms. We are pleased to offer chairside computers in our rooms at Bull City Smiles. All intraoral and extraoral photography, patient records, written communication, and clinical information can be shared between the doctor and treatment areas instantly.
CAESY Patient Education
To help patients become better informed about dental treatments, we are pleased to feature the CAESY Patient Education System. Using language that is straightforward and understandable, along with outstanding photographs and graphics, these programs allow us to display information about any dental subject using a computer monitor. We feel that this helps our patients become better informed about their dental treatment and the alternatives available to them.
Be sure to ask about our CAESY videos during your next visit to our dental practice! We are eager to answer your questions and help you find the right treatment options.