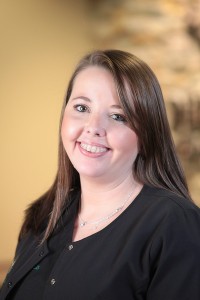 Heather – Insurance Specialist and Treatment  Coordinator
Heather was born and raised in Roxboro, NC. She joined us to begin a career in dentistry in 2011. Heather is a quick learner with a contagious personality. She is known for remembering your name and making you laugh at every visit.Heather got engaged in October 2005 in front of Cinderella's Castle in Disney!  She loves to spend time with her fiancé, Greg, and Chihuahua, Dallas, taking at the beach.   She is also a MAJOR UNC basketball and baseball fan! She enjoys cooking, making crafts with her cricket and jazzercise.
Ironically, before Heather met us she had a huge dental phobia.  We helped her conquer those fears and now she actually looks forward to her own dental visits.  Because of this, she knows the importance of helping patients feel comfortable, from their first phonecall to their last goodbye smile.
Heather is well versed in insurance, scheduling, and facilitating treatment. She looks forward to helping you to achieve all your dental health goals!
"Most people say they are lucky to have found our office because everyone is so nice and caring.  I always say, "You are absolutely right, but I am luckier because I get to work here!" "~ Heather
---
Amanda, RDH
Amanda is a native of Michigan and moved to Raleigh in 2003. A 1997 graduate of Lansing Community College, Amanda was attracted to dentistry for the opportunity to truly help people and create beautiful, healthy smiles. Our practice allows her to accomplish both of those and work with a team that was committed to advancing their skills and knowledge with dentistry and technology. Amanda has been a member of our family since 2010.Amanda develops a rapport quickly with her patients and puts each one at ease in her chair. She has developed many lasting relationships as a result, and her patients keep coming back! She loves instructing patients on their oral hygiene home care in a thorough way, and is actively invested in their overall oral wellness and improvement.
Amanda and her husband, Jim, have two boys, Avery and Camden. She enjoys exercising and spending time with her family. You can usually find her walking her miniature schnauzer, Stella, or cheering on her boys at one of their sporting events.
She looks forward to educating you about your dental condition through our amazing technology to give you a visit better than you could have imagined!
---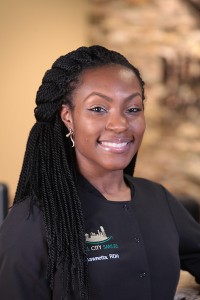 Shawnetta, RDH 
Shawnetta is a native of Durham, North Carolina, and she did not have to travel very far to attend her dream school. She attended The University of North Carolina at Chapel Hill where she received a Bachelors of Science Degree in Dental Hygiene and became a registered dental hygienist in 2011. Shawnetta is known for her gentle touch and comforting voice among her patients, because of this her patients feel very relaxed with her.She is very active in her church and is able to display a few of her talents there that involve singing and teaching dance to young girls in the Clayton, NC community. Shawnetta enjoys working in the dental field and has made it her motto to "change the world one smile at a time!"
Shawnetta has a 5-year-old Yorkshire terrier who is very energetic and loves to play. In her spare time, Shawnetta loves to spend time with her family and friends.
---
Jessica, DAII
Jessica is from Roxboro, NC, and has been a dental assistant with our team since 2009.Jessica really loves her job and it shows. She is known for her thorough, detailed care and ability to read Dr. Bolton's mind. She is a true professional, as patients love her. When she is not working, she enjoys spending time with her family at Hyko Lake and playing corn hole.
Jessica's favorite part of her job is the relationships she has built with so many of our patients.  Jessica looks forward to making you feel right at home for your dental treatment!  She is very detailed and thorough and enjoys making everything perfect as much as Dr. Bolton!
"I feel I have helped make a difference in so many people's lives by helping them smile confidently again and helping them through their fears to know we care."