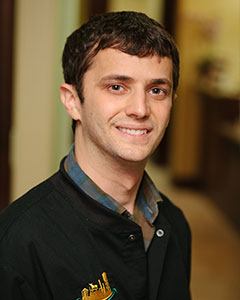 James Jorge, DDS
Dr. James Jorge was born and raised in a small town named Lewisberry, PA. His passion for science and medicine spurred him to earn his Bachelor of Science degree from the University of Maryland. He then went on to the University of North Carolina to receive is Doctorate of Dental Surgery.
Dr. Jorge believes in a philosophy where each patient is treated the same way he would treat any member of his family. Listening, ensuring patients are as comfortable as possible, and doing quality work are his top priorities. Working with people to alleviate discomfort and restore not just their smile but their confidence as well is one of the most rewarding aspects of dentistry, and Dr. Jorge looks forward to helping patients in any way he can.
Dr. Jorge is a member of the ADA and the North Carolina Dental Society. Dr. Jorge met his wife, also a dentist, while in dental school. Outside of dentistry, Dr. Jorge loves spending time hiking, playing soccer, cooking, and playing with his German Shepherd, Gus.